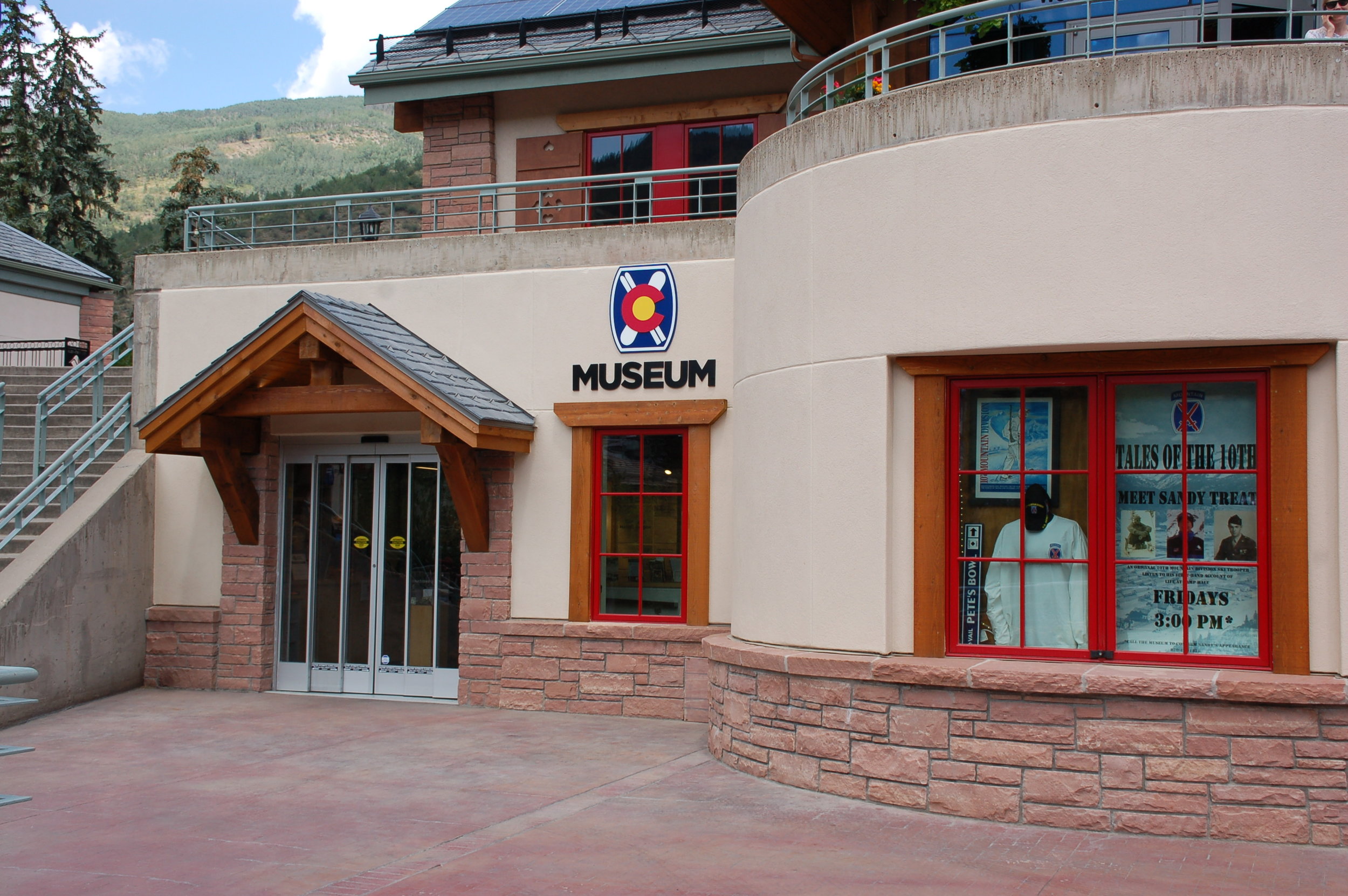 Open Daily 10am-6pm
The museum does not charge admission but as a non-profit, a donation of $5.00 is appreciated. From November to April, parking is free in the Vail Village Parking Structure after 3 PM. The museum may occasionally be closed for private functions.
Museum Rental and Tour Info
Museum Rental
The Colorado Snowsports Museum is an ideal location to host a party for up to 125 guests. Its backdrop of Colorado snowsports history and heritage sets the right atmosphere for a reception in the heart of Vail Village. The 10th Mountain heroes, ski evolution timeline, and Olympic champions make good company for a memorable event! The museum's 3,200 square feet of floor space, that includes exhibit areas and open space, easily accommodates cocktail parties and celebrations. The museum's liquor license covers liquor use for private events. The fee for four-hour private receptions, available outside of regular 10 am to 6 pm operating hours, start at $1,200. Please contact us for additional information;
970-476-1876, museum@snowsportsmuseum.org.
Historic Vail Village Walking Tour
The rich and often colorful history of Vail Village comes alive this summer as the Museum resumes its popular walking tour of Vail Village on Tuesday mornings, beginning July 30. Beginning at the Museum, the one-hour tours get underway at 11 a.m. and are priced at $5 per person. Guests are encouraged to contact the Museum in advance at (970) 476-1876 to secure a spot on the tour.
School Field Trip
Experience a guided tour and presentation for your students to help them understand the birth and explosion of Colorado's snow sports.
Call to book a tour
(970) 476-1876
Museum
Located on the 3rd level of the Vail Village Parking Structure adjacent to Vail Village Covered Bridge. Parking in the Vail Village Parking Structure is Free After 3 PM

231 S. Frontage Road East
Vail, Colorado 81657
Research and Artifact Collection Facility
13401 W. 43rd Avenue, Suite 9
Wheat Ridge, Colorado 80403
dana@snowsportsmuseum.org
(303) 273-5810